Wedding Banns
If you are getting married in another parish but live in one of our parishes you will need to have your wedding banns read by us.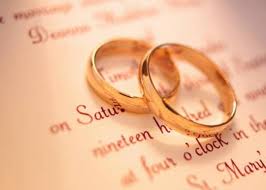 Please check which parish you live in before contacting us - parish boundaries can be a tricky thing and your parish church may not be your nearest church. To check your parish church please click here and enter your postcode.
Once you are sure you live in one of our parishes: All Saints', St Barnabas', St Michael's or St Peter's please read the rest of this page and complete the form at the bottom.
Your banns will be read in the appropriate church for three consecutive Sundays, usually the first three Sundays of the month, during the three months preceding your wedding. Please try and give us as much notice as possible to get things ready. You must give us at least 7 days notice and that includes providing the ID evidence we need.
ID evidence. You each need to provide us with the originals of your current British, EEA or Swiss passport together with proof of address (recent utility bill, bank statement, driving licence etc.). If it is difficult to call into the Church Office you can scan the documents and email them to us from here.
If you haven't got a current British, EEA or Swiss passport please refer to this document to see what other forms of ID are allowed.
---
Once all the information and ID have been provided we will advise you in which church your banns will read and when. It is always a good idea to hear your banns being read in your home parish and will give us the opportunity to pray for you both and your marriage.
The fee for reading the banns in 2020 is £46 and this can be paid in the Church Office on the collection of the banns certificate. You will need to give this certificate to the minister taking your wedding service beforehand.
If you have any further questions please contact us